Food Delivery
Aggregators
Build your Restaurants On-demand Food Delivery Solution
With the success of food giants like Ubereats, Postmates, Deliveroo, & food panda, online food delivery applications are in surging demand. Being a renowned Food delivery App Development Company in India
We are dedicated to serve you all time.
POS System
You will get an exclusive integrated pos system in the admin panel. You will find the order details, status, and customer details.
Order Management
You will get all order details with just one click. There are categories of orders(pending, confirmed, returned, delivered, etc) to assist your order management.
Food Management
You can manage foods in several categories and sub-categories. You can add new foods and banners according to your business criteria. You can manage your foods according to your wish.
Push Notification
Order status push notifications and marketing purpose push notifications from Firebase make your app more engaged, and they help you develop your business quickly.
Chat, Coupon, Tracking & Review etc. Pro Features.
There are plenty of useful features already built into this food delivery system. Take a look at our demos to learn more.
All-in-one Package
The most crucial aspect is that the online food delivery system is an all-in-one solution. You'll get an admin panel, a branch panel, a web frontend, as well as a mobile user and delivery guy apps.
Business Management
You can add a new branch and details in the business section. You will be able to collect product reviews from customers and send them notifications with coupons. You will get more of these types of interactive features that will help you to grow your business.
Statistics and Reporting
With Extensive statistics and reports, you'll be able to figure out your company's growrth. You will get earning reports, order reports, sale reports, deliveryman reports, and product reports.
We serve a wide variety of industries
Below is just a small sample of some of the industries that we serve.
Customer App
Driver App
Restaurant App
Admin Panel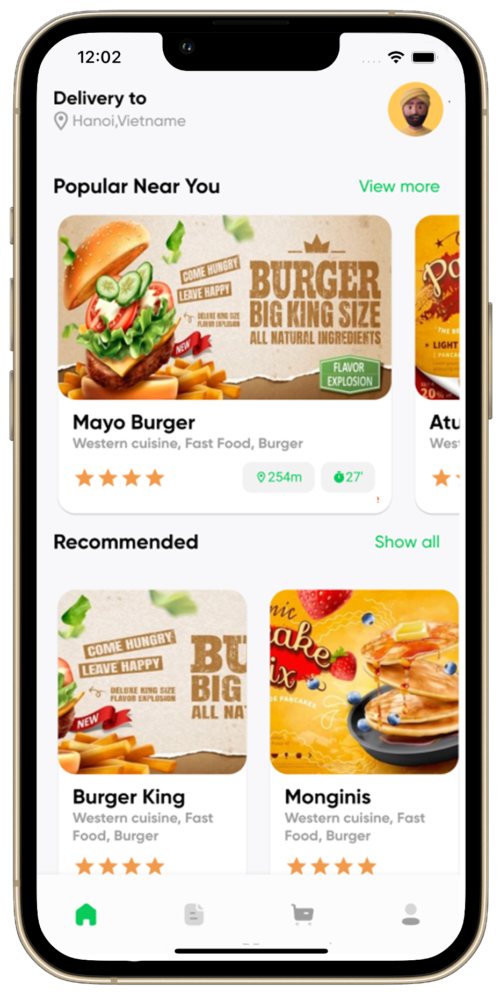 Why You choose our Product?
Customer App

A Customer Application is designed with ease to help the customers place their food delivery order by browsing multiple restaurants and its menu.
1
Nearby Restaurants Customers can search for and view all the nearby restaurants in their locality.
2
Restaurant Menu Users can view the menus of various restaurants, compare, and choose the best.
3
Push Notifications Customers get notifications of order confirmations, cancellations, new offers, and discounts.
4
Coupon Management Customers can view and use discount coupons and codes using the app.
5
Social Media Login Users can connect the food delivery app with their social media accounts for sharing their experiences, food images, and reviews.
6
Rating & Reviews Customers can give feedback, reviews, and ratings based on service, pricing, and quality.
7
Order Tracking Users can track their food orders using a real-time tracking feature. Users can track the exact location of their orders and check how much time a driver will take to reach them.





Why You choose our Product?
Driver App

A Driver Application is designed with great features and user-friendliness to accept or reject the restaurant delivery request as per the availability.
1
Profile Drivers, after login, can make their profile on the app.
2
Manage Orders Drivers receive orders on this app and can manage multiple deliveries using the app.
3
Order History Drivers can save and manage all the information of food orders and deliveries on the app.
4
Realtime Tracking Drivers can track real-time customer locations, get route directions on maps.
5
Realtime Requests Drivers get notifications of the orders placed by customers on the app.
6
Delivery Information Drivers receive information on the locations of various food deliveries.
7
Payment History Drivers can track and manage the payments for the day on the app.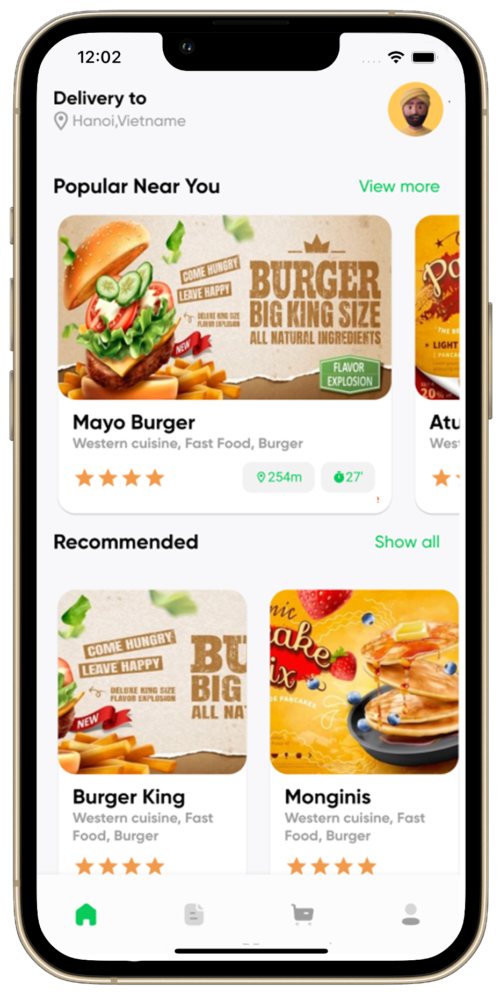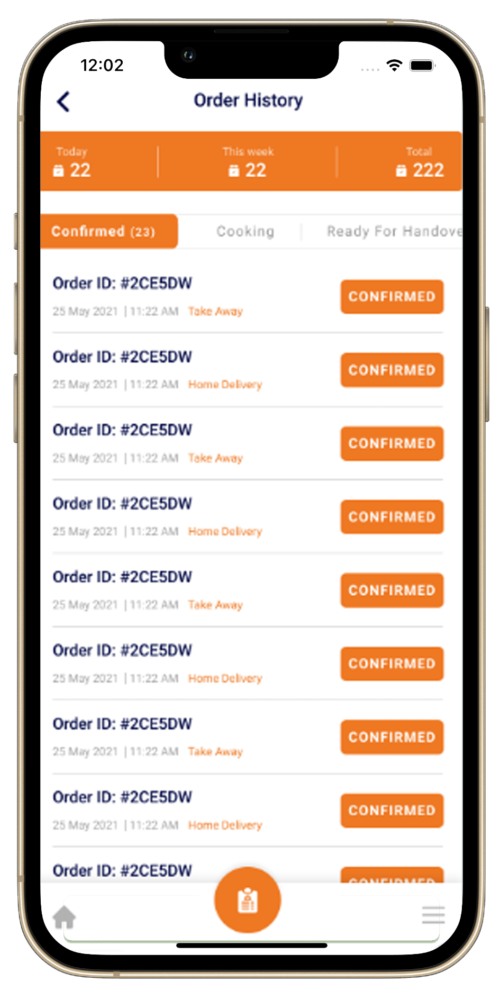 Why You choose our Product?
Restaurant App

A restaurant partner app helps to accept or reject the food delivery orders placed by the customers. It also helps in customizing the menu items as per availability.
1
Profile Allow restaurant owners to register and create a profile including restaurant address and contact details, a complete menu with prices, and delivery.
2
Menu Management Restaurants can create a new menu or customize menus based on customer food preferences and availability.
3
Manage Orders Restaurants can manage all the orders in one place, can get a complete view of the orders, including ongoing, dispatched, pickups, and scheduled ones.
4
Real-time Tracking of Driver Restaurants can track the real-time location of drivers with their real-time location. They can also check the total delivery time and routes.
5
Manage Offers & Discounts Restaurants can create new discount deals and offers or customize the current ones to benefit from ordering food.
6
Payment History Restaurants can manage all the orders in one place, can get a complete view of the orders, including ongoing, dispatched, pickups, and scheduled ones.
7
Push Notifications Restaurants get notifications about the new order, status of received or shipped orders, the payment received online, and other important updates.





Why You choose our Product?
Admin Panel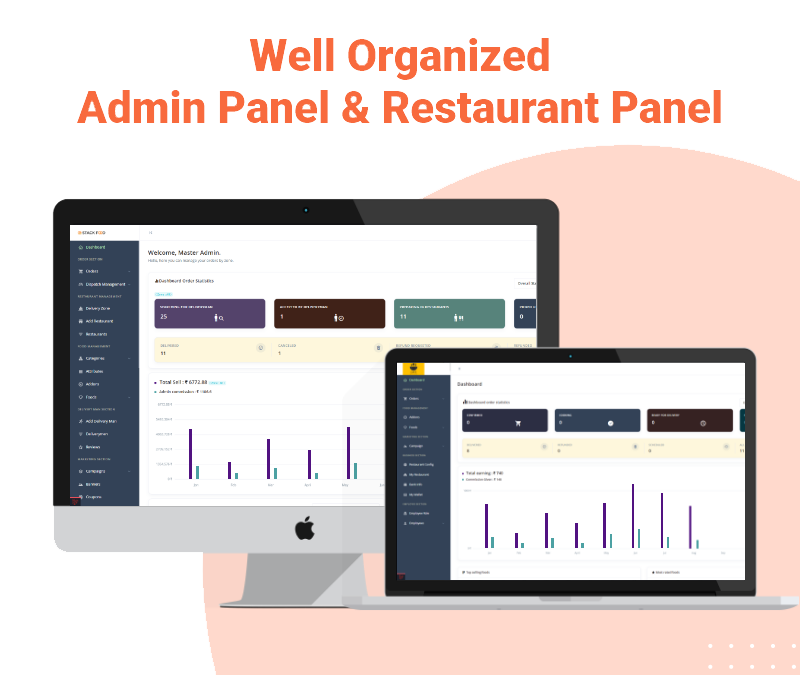 1
Customer Management The dashboard includes the details of customers, cuisines, restaurants they prefer, and the orders they place.
3
Driver Management It includes the details of all the drivers, their profile information, license, and other details.
5
Menu & Timing Restaurants can create different menus for different times and manage them on the admin panel.
7
Analyzing & Reporting Get real-time insights into reports and other information to identify the growth and expansion opportunities.
2
Restaurants Management Manages details of all the restaurants by adding, updating, and removing restaurants from the list.
4
Payment & Commission Management Restaurant owners can set payments and manage commission rates directly from the panel.
6
Delivery zone Management The restaurant owners can also track and manage all the food deliveries on the panel.
8
Promo codes The promo codes to add in cash deliveries, offers, and discounts can all be managed through this panel.
We develops strategic software solutions for businesses.
Countries with active
client base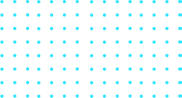 Here's what our customers have said.
Simplified IT is designed to help make sure you and your data is protected and your computer runs it's best. The network Access provides is valuable.
"ITo helped the client achieve their goal of calling the attention of mobile network operators. The expert team was also able to develop an app with commendable UI/UX. The client appreciates their flexibility in terms."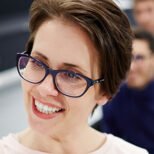 "Ordered my first mobile app development to ITSoft Solutions. I was inexperienced contractor but they carefully listened to my request and try to deliver the best quality of service. All phone calls and emails are answered very professionally. "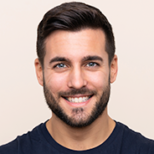 "Working with several word press themes and templates the last years, I only can say this is the best in every level. I use it for my company and the reviews that I have already are all excellent. Support is helping to fix my issues now."